In our serial article SHISEIDO MUSEUM, we introduce the "Beauty" story behind the advertisement creations Shiseido has delivered in every epoch. We hope they convey our message of hope toward the future.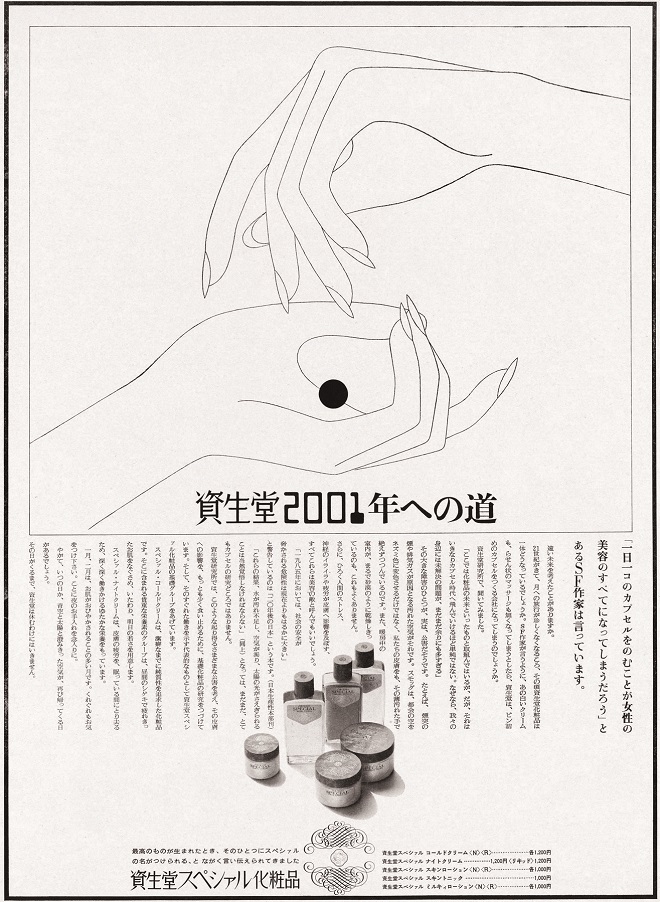 This is a 1969 newspaper ad for the "Shiseido Special" line of products. Though Japan was enjoying rapid economic growth in the late 1960s, this progress brought with it increasing environmental concerns. The ad quotes a publication titled 『20年後の日本』Japan in Twenty Years (pub. Japan Productivity Center), writing, "In 1985, our society will be exposed to a far greater safety risk than it is today" – and goes on to address the relationship between beauty products and the environment.
 The Shiseido Special skincare products line, which first hit the shelves in 1963, was a response to the various forms of pollution that plague our society, developed through research on how to minimize their impact on our skin.
 Shiseido's goal is to contribute toward a sustainable society by rethinking the relationship between beauty and society. This ethos finds its root in a phrase in the ancient Chinese text I Ching, from which the company takes the "Shisei" (資生) part of its name: "Praise the virtues of the great Earth, which nurtures new life and brings forth new values" (至哉坤元 万物資生). The spirit of these words, which express respect for the land, for Earth's environment, and for society, is still very much alive today in Shiseido's activities.
Text: Toshiyuki Marumo (Social Value Creation Division, Shiseido)