In our serial article SHISEIDO MUSEUM, we introduce the "Beauty" story behind the advertisement creations Shiseido has delivered in every epoch. We hope they convey our message of hope toward the future.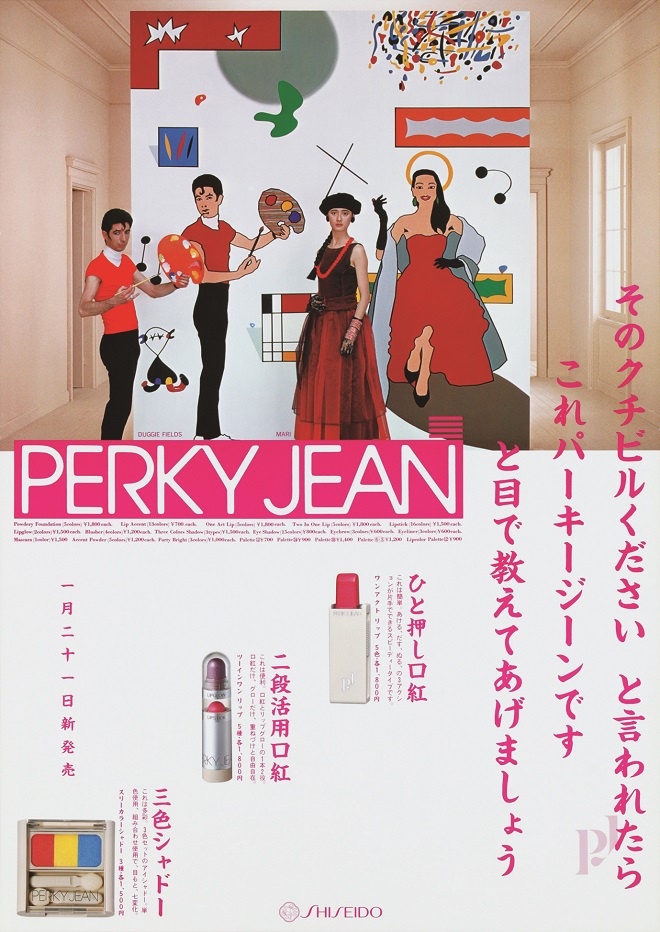 The brand name PERKY JEAN expresses the casual lifestyle of the cheerful, lively and slightly cheeky "Miss Jean." Launched in 1982, the brand mainly targeted female university students ‒ the driving force behind Japanese fashion trends at that time, PERKY JEAN provided a general lineup of skincare, makeup and fashion items.
 The ceiling-high painting in this poster was created by the darling of the London pop art world, Duggie Fields. The woman in the center is the first PERKY JEAN model, university student Mari Nakazawa. Standing to her left and holding a paintbrush is Duggie Fields himself. Arranging three-dimensional people against a two-dimensional canvas, this expression of pop art elevated the worldview of PERKY JEAN, then in its second year in a more artistic and fashionable manner.
 This encounter between the vivid world of Duggie Fields and PERKY JEAN opened up new artistic freedom through colors were directly inspired by Duggie Fields' signature use of primary colors. With this co-creation of new art, a chord was struck with the brand's curious, creative target.
Text: Ruriko Takano (Shiseido Social Value Creation Division)