In our serial article SHISEIDO MUSEUM, we introduce the "Beauty" story behind the advertisement creations Shiseido has delivered in every epoch. We hope they convey our message of hope toward the future.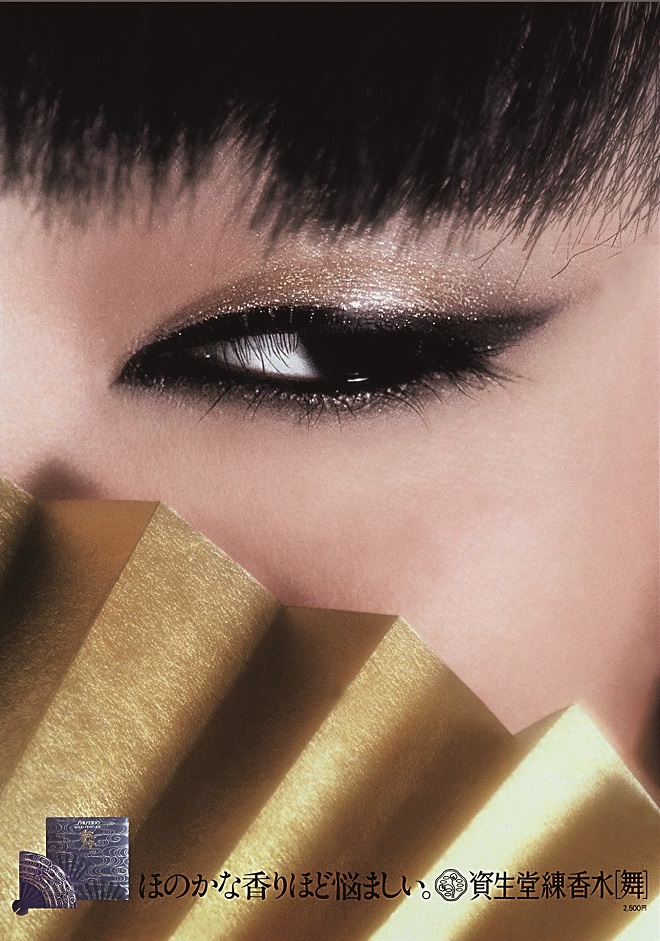 This striking poster with the enigmatic eye is an advertisement for Shiseido, created in 1978 with Sayoko Yamaguchi as the model. After first appearing on the cover of "Hanatsubaki" in 1973, Sayoko was featured in numerous advertisements until the mid-1980s through an exclusive contract with Shiseido. She took the Paris runway and the world by storm with her exotic looks – black hair, straight-cut bangs, and tapered eyes emphasized by eyeliner. Her style would eventually become known throughout the world as an iconic representation of Japanese beauty.
 As extraordinary as she was as a model, Sayoko was also a performer with a mold-breaking career. She worked with the dance troupe Sankai Juku and preferred to call herself a "wearest" in her later years. In this advertisement, she reveals her mastery of physical expression: She enchants and allures with only her gaze. The graphic designer met her challenge with bold trimming, sublimating her beauty from instantaneous to infinite. The shadows dwelling in her gold fan and eyelashes, the subtle shimmer of her eyelid, the highlighted emphasis on the white of her eye, and the illumination on her fan – the world of light and shadow, depicted by graphic expression, further enhances Sayoko's performance.
 The creator of this work was Makoto Nakamura (1926-2013), art director and designer of Shiseido's Advertising Department (now Creative Division) whose works are a part of the permanent collections of New York's Museum of Modern Art. Makoto was a master of graphic expression. He made deft use of print-plate making techniques as a design tool. His was a distinctive world of expression, releasing great power through minimalist trimming. Here, contained on a single sheet of paper, we see the breathtaking moment of seductive beauty in a world crafted by performer and creator.
Text/Chisako Koizumi(Shiseido Corporate Museum)