In our serial article SHISEIDO MUSEUM, we introduce the "Beauty" story behind the advertisement creations Shiseido has delivered in every epoch. We hope they convey our message of hope toward the future.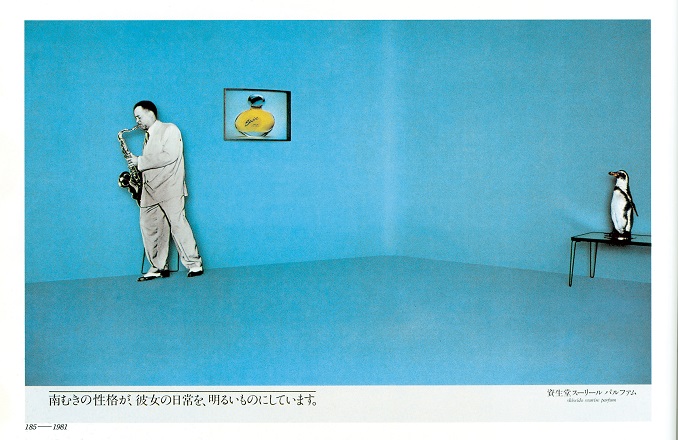 "Shiseido Fragrance: Sourire"
(SHISEIDO FRAGRANCE COLLECTION 7 Wakakusa Street)
 This ad was released in 1981 as a part of the SHISEIDO FRAGRANCE COLLECTION ad series.
 "Sourire," the name of this fragrance, means "smile" in French. The copy "A south-facing personality brightens her days," paired with the transparent, lighthearted colors, result in a humorous impression seemingly suggesting the fresh scent of the perfume, Sourire.
 Kazuhiko Ohta, a Shiseido Advertisement Division designer at the time, reminisces that they had re-inserted the product into the ad this time, four years into the Fragrance series. "But the product was barely big enough to see," he says, "and we were teased about this 'where oh where is the product' series. Our theme was that the fragrance would dominate the room, but the glamorous bottle design of the Shiseido fragrances exuded a commanding sense of presence no matter how they were handled, which is a great confidence-booster for our photos."
 Refusing to be swayed by conventional ideas of what a fragrance ad should look like, the whimsical penguin and musician pair leaves a novel impact on the viewer.
Text: Toshiyuki Marumo, Social Value Creation Division