In our serial article SHISEIDO MUSEUM, we introduce the "Beauty" story behind the advertisement creations Shiseido has delivered in every epoch. We hope they convey our message of hope toward the future.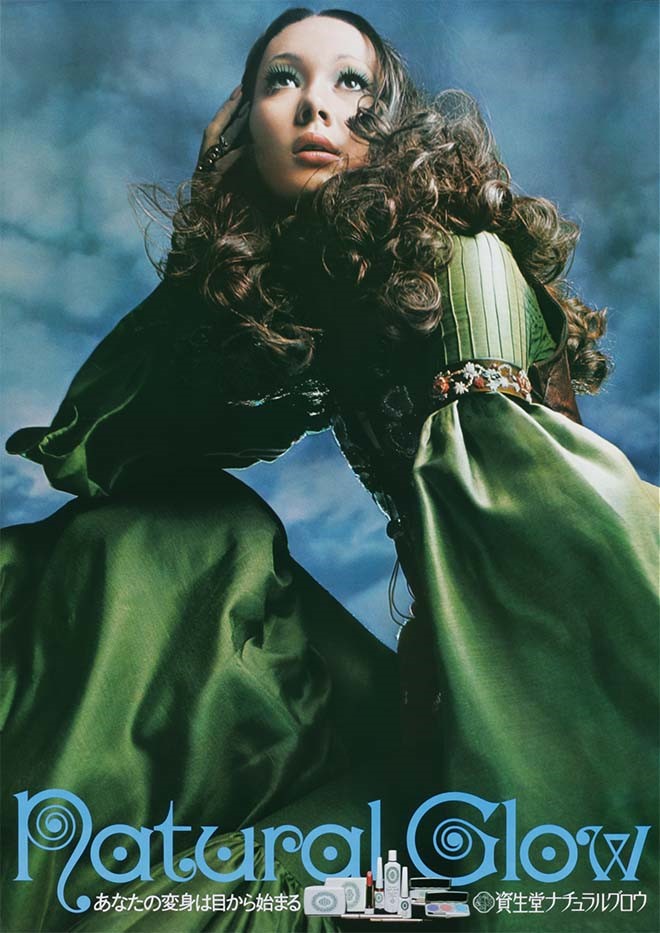 Shiseido Natural Glow
 The face mask may be the new global standard amid the covid-19 pandemic, but that shouldn't mean we have to give up on wearing makeup. Shouldn't we be able to express our individuality, creatively, just by eye makeup which masks don't cover? In this installment, we bring you the 1969 "Shiseido Natural Glow" advertisement which focused on the eyes.
 Underlying the 1968 birth of Shiseido's first full makeup brand Shiseido Natural Glow was a sea change in the '60s fashion trends. The feminine, elegant woman who blossomed in the postwar '50s was newly liberated once into the '60s, influenced by space exploration, youth power, anti-war protests, and other social movements. The new ideal female was free and more genuine, not tied down by "womanliness."
 This ad, too, comes with the catch copy, "Your transformation starts with your eyes." It encourages women to transform themselves in alignment with the changes in societal values. The visual is dominated by green, as if to symbolize the natural, and features the central figure of a woman in majestic repose, clad in an ethnic-accented hippie-style maxidress, directing her powerful gaze, shadowed in pale green, toward the future. It may be an ad for a cosmetic product, but the star of this visual is the very character and presence of one independent woman. It is a clarion call to women, urging them to free themselves from conventional ideas in more candid, dynamic forms of self-expression through makeup and fashion.