An Exploration of Modern Ginza
An Exploration of Modern Ginza — VI. Mari Mori, "Penniless Luxury," and Ginza
2021.04.20
Photography by Ko Ito
Words & Illustrations by Yoshiyuki Morioka
The Summer/Autumn 2020 issue of Hanatsubaki included an essay by Yoshiyuki Morioka, the owner of Ginza's Morioka Shoten bookstore, on the relationship between Ginza and Shiseido. In this online column, Morioka ties together the past, present, and future of the district through reference to various books and events.
 Ginza has always been a stomping ground for iconic figures of the day, and all the excitement and drama that it has seen can be felt in the air even today. So join us on an imaginary walk around Ginza, guided along by the photographs of Ko Ito, a photographer who was taking snapshots of the district around 1964.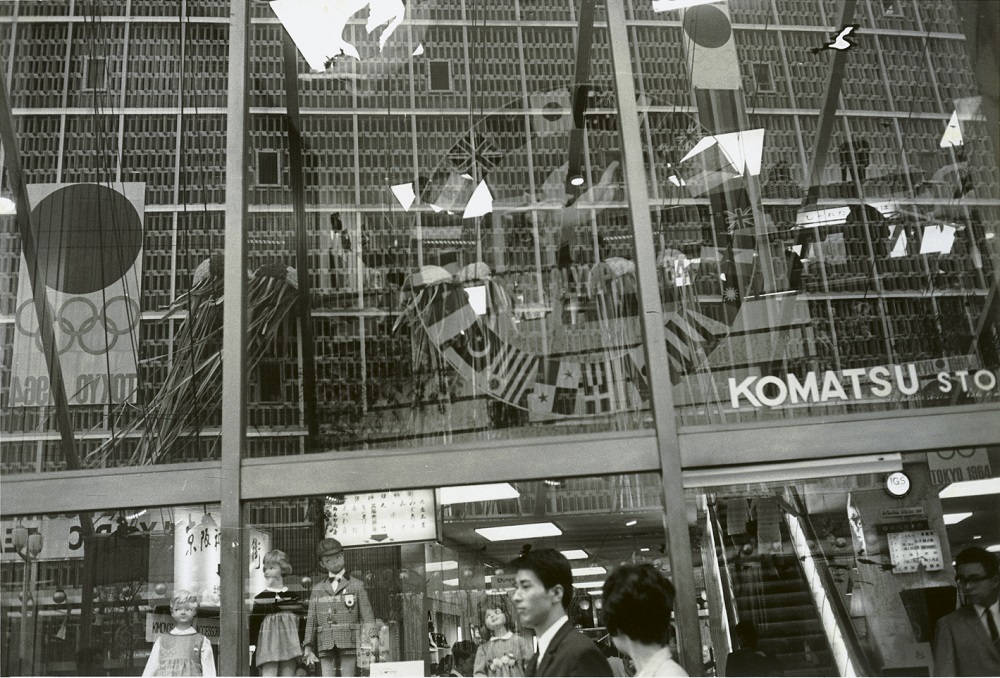 VI. Mari Mori, "Penniless Luxury," and Ginza
 The other day I read Zeitaku Binbo ("Lavish Poverty" or "Penniless Luxury"), an essay written by Mari Mori in 1963.*1 After finishing it, it occurred to me that if I were around 20 years old now, I would probably be trying to work out what "penniless luxury" I myself could eke out in today's Ginza. So, I mapped out a plan on the hypothesis that I had managed to scrape together a budget of 2000 yen (around 18 US dollars) per person by selling some of my stamp collection—just as Mori sold away her jackets to help fund her extravagant ways. (Still, 2000 yen really doesn't amount to much…)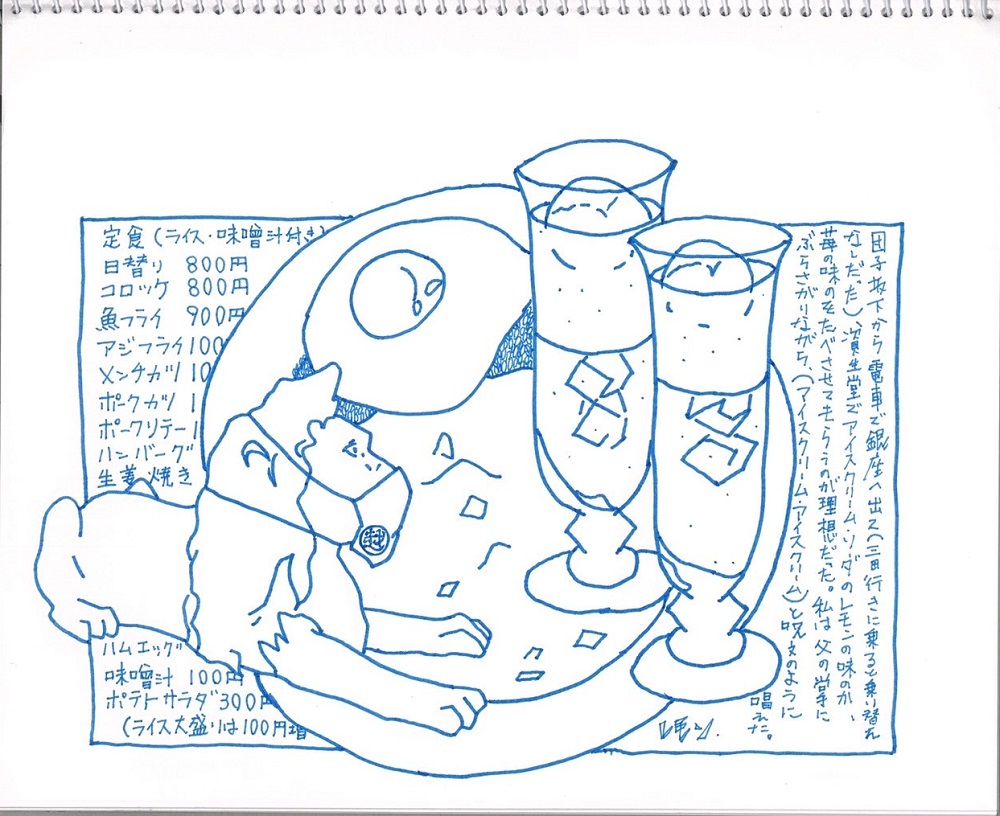 "You know Mari Mori? She's the daughter of Ogai Mori [a pre-eminent figure in modern Japanese literature], and she apparently loved the lemon ice cream soda at Shiseido Parlour. They still serve it there—do you feel like going with me sometime?"
 That was how I invite A—, a fellow literature student a little older than me, arranging to meet her in front of the lion statue at the Ginza Mitsukoshi department store.
              *
 Twelve o'clock. The Wako bells ring, and I see A— coming my way. Mitsukoshi's lion is wearing a mask against the coronavirus, as are we of course.
 First, we walk toward the Kabukiza Theatre and turn left onto Showa Avenue to get to Restaurant Hayakawa.*2 After disinfecting our hands, we take a seat by the window and order two curries with fried egg (750 yen each). Through the window, I can see the hydrangeas in bloom along the sidewalk.
 "Restaurant Hayakawa was established back in 1936," I venture. "Mari Mori was born in 1903, so she would have been 33 then. She'd been married and living in Sendai at one point, but she apparently used to complain all the time, saying, 'Sendai has no Ginza, no Mitsukoshi' or 'There's no Mitsukoshi or Kabukiza here.'"
 "But Sendai is such a beautiful city," replies A—, "and the food there is so good."
 After lunch, we cross to the other side of Showa Avenue and look around the Kabukiza Theatre. I say to A—: "The Kabukiza was designed by Shinichiro Okada, the architect behind buildings like the Hatoyama Hall in Otowa and the Meiji Seimei Kan by Babasaki-mon." I pause for a while, then continue: "Ogai Mori and Okada's father, Kenkichi Okada, were both in the Imperial Japanese Army's medical division under the same superior officer, so maybe they knew each other." Sadly, this doesn't seem to interest her too much.
 Back on Chuo Street, we make our way to Shiseido Parlour.3 While waiting at the traffic lights on Miyuki Street, I tell her, "You know, Ogai Mori wouldn't let his children eat ice cream sold on the street—only ice cream in Ginza at Shiseido. He was apparently concerned about hygiene."
 We disinfect our hands again at Shiseido Parlour and sit down at a table by the wall. I find the ice cream sodas in the menu. There are a couple of seasonal flavors too—blueberry and plum—but we decide to go for the lemon one (1150 yen), as that was Mari Mori's favorite. A— asks the waiter about the painting on the ceiling, and he informs us courteously that it was done by Manika Nagare. After a little wait, our ice cream sodas arrive. Only in Ginza can you enjoy flavors that haven't changed since Ogai's days. Then the two of us get to chatting again.
 "There's a Mari Mori essay titled At Dinner One Day, where she talks about the baseballer Shigeo Nagashima's 'animal instinct,' as she calls it. According to her, only a few human beings retain that sharp and adaptable instinct that animals tend to have. The way I see it, that sort of raw, wild instinct is going to be valued even more in the future."
 "Finally, an opinion of your own! I'm into contemporary art, and I get the impression that artists have that animal instinct too."
 "Oh, Mari Mori says something similar. She says that people who achieve seemingly superhuman feats—she specifically mentions Hokusai, Sharaku, Tsuruya Namboku, Saisei Muro, Kyoka Izumi, Shichiro Fukazawa, and Seiji Ozawa—all share that animal instinct."
 "Speaking of art, I hear there's actually a lot of art to see in Ginza—is that true?"
 "I believe so. We should go on an art trail next time!"
 So it is that I succeed in securing a next date before our lemon ice cream sodas are finished. All in all, our penniless—well, 2000-yen—luxury outing in Ginza has been a great success.
*1. Mari Mori (1903–1987) was born in Sendagi, Tokyo, as the eldest daughter of novelist Ogai Mori and his second wife Shige. Born with a weak constitution, she grew up doted on by her parents, particularly her father. By the end of her 20s, she had already divorced twice and even lived briefly in France with her first husband. Mori's literary talents would flower later in life when, in her 50s, she won acclaim for
My Father's Hat
, a memoir about her father; she would then go on to develop her own style of writing, characterized by its dreamlike, artful world-building and its delicate sensuality. Her best-known works include
Poor Savarin, A Lover's Forest, and The Room Filled with Sweet Honey
.
*2. Restaurant Hayakawa (est. 1936) is one of Ginza's long-standing Western-style restaurants. Among its most popular dishes are the curry with fried egg, omelet rice, croquettes, and fried fish. 4-10-7 Ginza, Chuo-ku
Contributors