An Exploration of Modern Ginza
An Exploration of Modern Ginza — IV. A happy coincidence at Kyukyodo
2021.04.20
Photography by Ko Ito
Words & Illustrations by Yoshiyuki Morioka
The Summer/Autumn 2020 issue of Hanatsubaki included an essay by Yoshiyuki Morioka, the owner of Ginza's Morioka Shoten bookstore, on the relationship between Ginza and Shiseido. In this online column, Morioka ties together the past, present, and future of the district through reference to various books and events.
 Ginza has always been a stomping ground for iconic figures of the day, and all the excitement and drama that it has seen can be felt in the air even today. So join us on an imaginary walk around Ginza, guided along by the photographs of Ko Ito, a photographer who was taking snapshots of the district around 1964.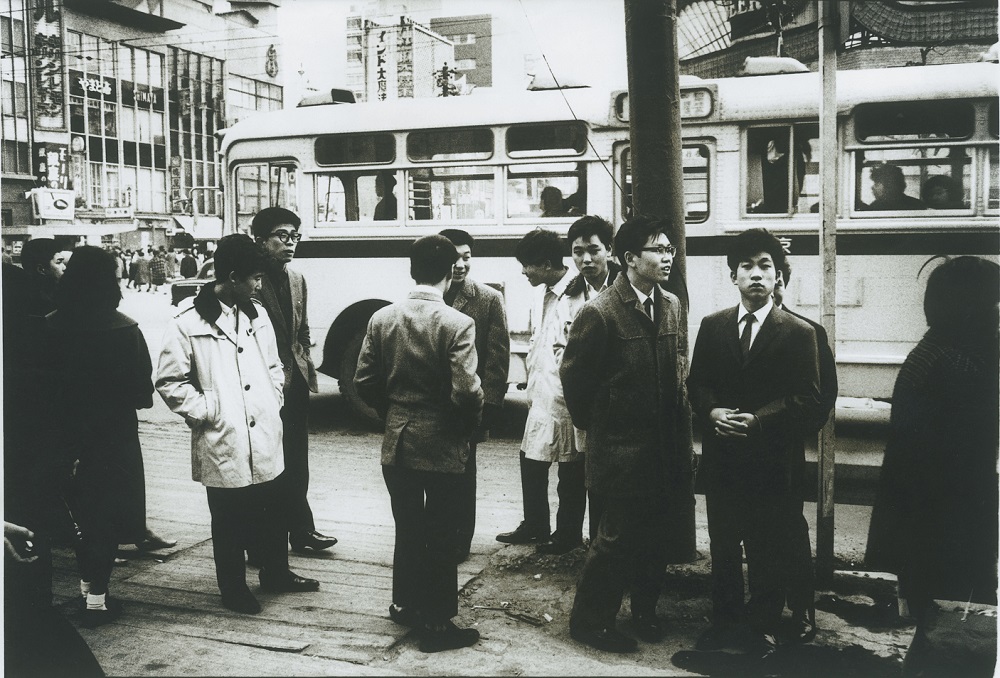 IV. A happy coincidence at Kyukyodo
 The other day, I received a letter from Germany. Despite the wide variety of digital tools that we have at our disposal today, occasions like this tend to renew my appreciation of the handwritten letter. What letter paper should I use, what envelope? What about the stamp? Letters offer such exciting choices, and they are a joy to receive too. This particular letter had been sent to me by someone who lives in Germany, and both the paper and the envelope were made by Kyukyodo.*1
 Well, if I was going to send a reply, I should surely use Kyukyodo stationery too. So, on that day in June, I set out from the Suzuki Building and headed for the store in Ginza 5-chome. As I crossed the Ginza 4-chome intersection, I caught a whiff of incense: it was coming from the entrance of Kyukyodo, where they were doing a sale on incense. It was in 1877 that Prince Sanetomi Sanjo, who was chancellor at the time, conferred on Kyukyodo the secret incense blend formulas that had been in his family for nine centuries; these formulas, which were also favored by the Imperial Household, have been passed down ever since. It is amazing to think that we can still enjoy today an incense blend that has been preserved since the Heian period (794–1185). Even in The Pillow Book (a Heian-period book of essays and musings), we find "lighting fine incense and lying alone" and "washing one's hair, applying make-up, and putting on a robe suffused with incense" under its list of "Things That Send One's Heart Aflutter."
 On the left side of the Kyukyodo building's façade, we find engraved the number 1663: the year when the store was founded in Kyoto. An apothecary shop to begin with, it is said to have started producing incense because of the raw ingredients shared by incense and Chinese herbal medicine. A little research revealed that the potter and painter Ogata Kenzan was born in Kyoto that same year.*2 Kenzan's pottery work includes some incense burners; perhaps he too shopped at the Kyoto Kyukyodo.
 And on the right side of the façade, the number 1880: the year when Kyukyodo opened its first Tokyo branch in Ginza. How did they transport the merchandise from Kyoto to Ginza in those days? The railroad between Kyoto and Kobe had already been completed by then, so perhaps the products were first taken to Kobe by rail, shipped from there to the Port of Yokohama, then finally to Shimbashi by rail again. Though we don't know the full truth, it's exciting just to imagine how it might have felt to be at Shimbashi Station on that particular day in 1880, waiting for the steam train to arrive with the goods.
 Envelopes and letter paper can be found on a shelf by the counter on the first floor. I chose a paper set called "The Letter," which had Kyukyodo's logo—two doves facing each other—on its letterhead. I also found an envelope named "Yushin," which might be translated as "I Have News" or perhaps "Message Inside"—but I realized that it can also be read as "Arinobu," as in Arinobu Fukuhara, the founder of Shiseido. So, I bought that too. There were ladies exchanging words about the seasonal letter pads: one was saying, "I've used the 'Hydrangea' one already, I think I'll go for 'Morning Glory' this time."
 I was intending to post my letter at the Ginza Post Office, which uses a special "scenery postmark" (a decorative postmark that is unique to the post office and the district) depicting the Ginza 4-chome crossing; with that on the stamp, it will be clear as day that the envelope was acquired at Kyukyodo's Ginza branch.
 But what stamp should I use? I collected stamps avidly as a child, and I seemed to recall there being a stamp featuring Ogata Kenzan's pottery… I looked it up, and it turned out to be the New Year's gift stamp from 1973. Come to think of it, my addressee is one year my senior, which means… born in 1973! This was a lovely little coincidence, which all happened over a Kyukyodo envelope. It was too good to pass by: I put the Kenzan stamp on the envelope and sent the letter off to Germany, praying for a chance to meet up in Ginza someday.
*1. Originally established in Kyoto in 1663, Kyukyodo opened its first Tokyo branch in 1880. This historic store specializes in incense, stationery, and
washi
(traditional Japanese paper) products. In addition to postcards, letter paper, envelopes, money gift envelopes,
washi
crafts, and various seasonal products, the store sells incense of different shapes and uses, scented sachets, and traditional stationery for calligraphy and painting. Located near the Ginza 4-chome crossing Kyukyodo is one of the area's landmarks. 5-7-4 Ginza, Chuo-ku
*2. Ogata Kenzan (1663–1743) was born the third son of Ogata Soken, a wealthy textile merchant based in Kyoto. His elder brother was the painter and lacquerer Ogata Korin. Known as a potter as well as a calligrapher and painter, Kenzan's work is reputed for its almost literary flair that was free of both vulgarity and ceremony.
Contributors