An Exploration of Modern Ginza
An Exploration of Modern Ginza — I. The Wako bells
2021.04.20
Photography by Ko Ito
Words & Illustrations by Yoshiyuki Morioka
The Summer/Autumn 2020 issue of Hanatsubaki included an essay by Yoshiyuki Morioka, the owner of Ginza's Morioka Shoten bookstore, on the relationship between Ginza and Shiseido. In this new online column, Morioka will be tying together the past, present, and future of the district through reference to various books and events.
 Ginza has always been a stomping ground for iconic figures of the day, and all the excitement and drama that it has seen can be felt in the air even today. So join us on an imaginary walk around Ginza, guided along by the photographs of Ko Ito, a photographer who was taking snapshots of the district around 1964.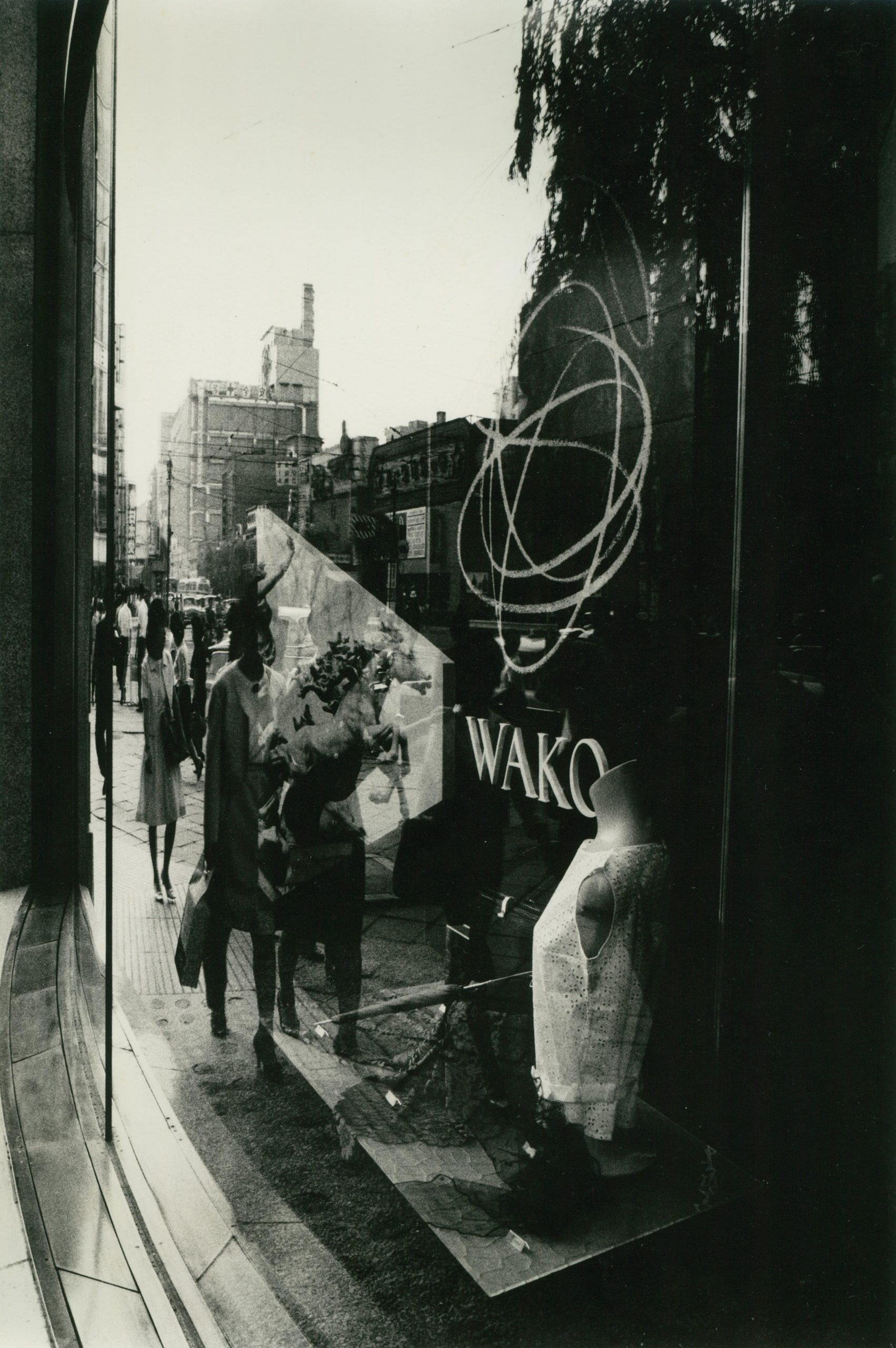 It was on June 10, 1932 that the current Wako department store building in Ginza 4-chome was completed. The building has been a Ginza landmark ever since, particularly its clocktower whose bells have sounded the hours throughout the decades. Standing before the building, I always find myself trying to picture what Ginza was like back in those days.
 So I imagined what my day might have been like if I had gone to the Michiko Yamawaki Handwoven Bauhaus Textiles Exhibition, which ran at the Shiseido Gallery on the second floor of the Shiseido Cosmetics Department from May 1 to May 5, 1933. *1 *2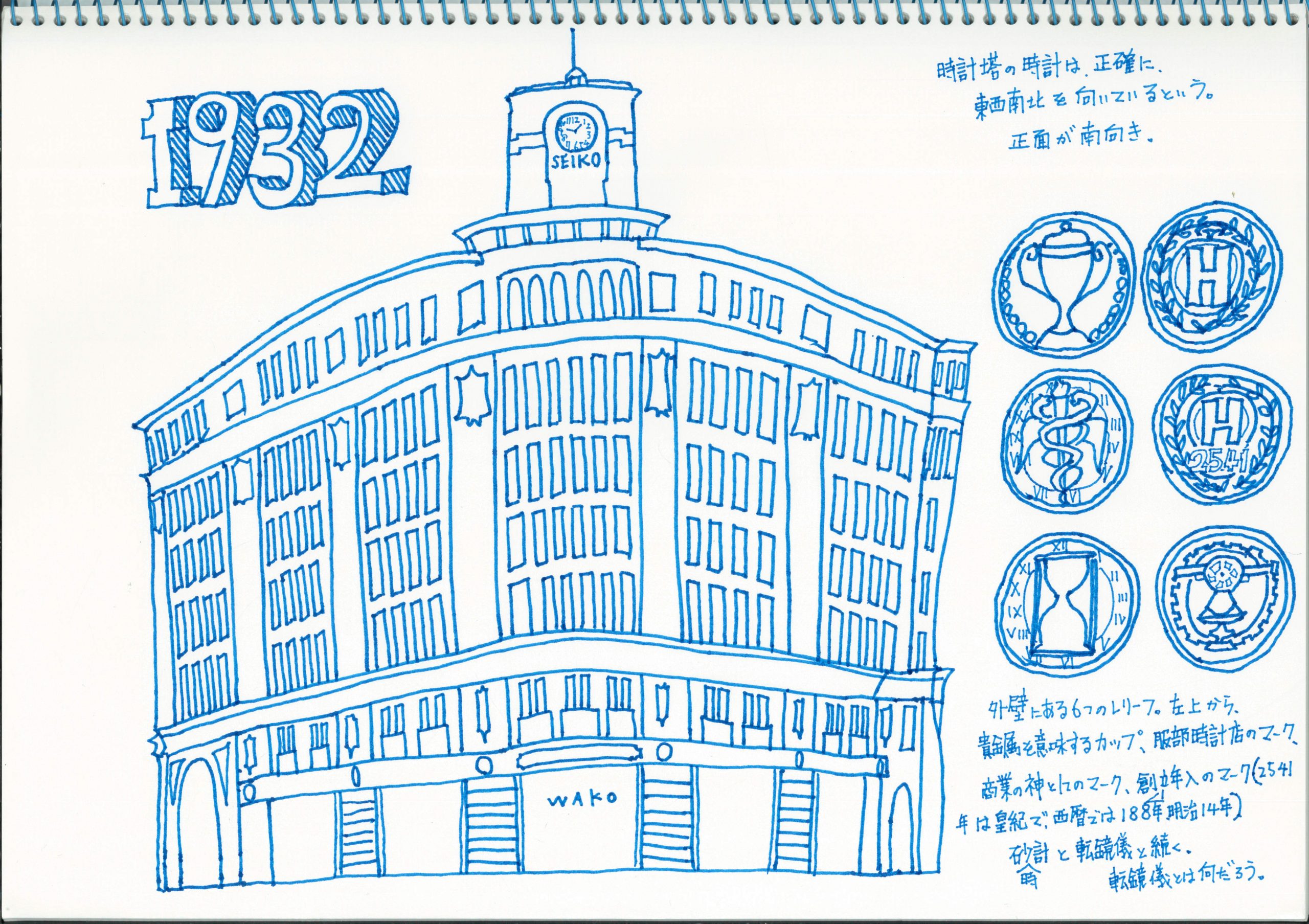 May 1, 1933. Fine weather. At eleven in the morning, I get ready to leave my place in the Suzuki Building in Kobikicho, Kyobashi-ku. *3 I choose a grey suit, a white shirt, and a paisley tie. Stepping outside I see A—, the young son of Mr. Suzuki (the owner of my building), fishing for goby off Miyoshi Bridge. I cross Showa Avenue, go past the Yonei Building and turn on to Ginza Street to get to Renga-Tei in Ginza 3-chome.*4 The willows sway in the wind, and Wako's bells are just striking twelve.
 Taking my seat at Renga-Tei, I order omelet rice—my favorite—with a side order of soup. The omelet's smooth, fluffy texture and the ketchup's flavor make for a delicious combination.
 At one o'clock I have my hair cut at Yonekura, *5 which is in the Kikusui Building in Ginza 6-chome. [The barbershop is today located in Ginza 5-chome.] I debate whether to go for a side parting or have it all combed back, but I end up going for the latter as usual, with a shave too. At Yonekura, they use a different towel for every step of the shaving process; it makes me wonder how many towels they go through for each customer.
 Two in the afternoon. I pop into Sembikiya in Ginza 8-chome before heading to Shiseido Gallery. *6 Ms. Michiko Yamawaki is sure to receive more than an armful of confectionery as gifts today, so I will buy her some seasonal fruit instead. They happen to be selling fresh melons just in from Hamamatsu.
 I arrive in Ginza 7-chome and climb the stairs at the back of the Shiseido Cosmetics Department to the Shiseido Gallery on the second floor. I find many guests there, including poet, photographer and designer Katsue Kitazono and Western-style painter Shigejiro Sano. It is around three o'clock when I greet Ms. Yamawaki, who is dressed in kimono, and hand her the melon. Next to her is Iwao, her husband. I know he takes photographs, so I ask him to show me his Bauhaus pictures some time. Afterwards, I meet up with the editor of Shiseido Geppo ["Shiseido Monthly," the precursor to Hanatsubaki ] in front of the Cosmetics Department, *7 who hands me the proof of my article. As I survey the perfumes in the display window, a photographer inside takes a picture of me.
 At four o'clock, I enter the Shiseido Parlour next door in Ginza 8-chome and go over the proof amid the aroma of coffee. *8 I treat myself to an ice cream too. At five, I decide to go home—though not before stopping by for a whisky at Bar Lupin, *9 on an alley off Miyuki Street. I am their first customer today. On my way home, as I am walking across the Ginza 4-chome crossing, I hear Wako's bells ring again: six o'clock. Passing in front of Choshiya in Kobikicho,*10 I catch a whiff of their fried croquettes. A—, Mr. Suzuki's son, will still be playing outside, so I buy some croquette sandwiches for him, and sure enough, I find him in front of the Suzuki Building. And there ends my imaginary journey.
 What is significant here is that the itinerary described above can still be replicated today in its every detail, with the exception of the Michiko Yamawaki exhibition and the young boy A—. Replicated as far as is possible anyhow: the air raids of January 1945 razed much of Ginza to the ground, so compared to back then… I cannot wait for this coronavirus crisis to subside so that I can wander the streets of Ginza once more, accompanied by the hourly sounds of the Wako bells.
 Michiko Yamawaki was born in 1910, the daughter of Zengoro Yamawaki, a master of the Urasenke school of tea. After graduating from a girls' school at the age of 18, she married Iwao Yamawaki, who had studied architecture at the Tokyo Fine Arts School (present-day Tokyo University of the Arts) and was working at Tamisuke Yokogawa's construction company. In 1930, she accompanied her husband to Dessau, Germany, where they both joined the Bauhaus art school; Michiko, then 20 years old, was provisionally admitted. After completing the preliminary course, Iwao went on to study on the architecture and interior design course, and Michiko on the textiles course. The rise of Nazism, however, forced the Dessau Bauhaus to shut down at the end of September 1932, and the Yamawakis returned to Japan that same year. In May 1933, Michiko held an exhibition at what is Shiseido Gallery today. She is the author of
Bauhausu to Chanoyu
("Bauhaus and the Tea Ceremony"; pub. Shinchosha, 1995).
*1.  Shiseido Gallery was established by Shinzo Fukuhara, the first president of Shiseido, in 1919 (then simply referred to as the "exhibition space") on the second floor of the company's Cosmetics Department building at 11 Takekawacho.
*Today, the gallery is on the basement floor of the Tokyo Ginza Shiseido Building (8-8-3 Ginza, Chuo-ku).
*2. Shiseido established its Cosmetics Department and store at 11 Takekawacho (7-8-10 Ginza by today's addressing system) in 1916, where SHISEIDO THE STORE is currently located.
*3. The Suzuki Building, where the Morioka Shoten bookstore can be found today, is located at 1-28-15 Ginza, Chuo-ku by the present-day addressing system.
*4. Renga-Tei is a Western-style restaurant established in 1895, which remains a popular spot to this day.
*5. The Yonekura barbershop opened for business at the Tsukiji Seiyoken Hotel in 1918, and later opened its main shop at the Kikusui Building in Ginza 6-chome in 1923. It relocated to another address in Ginza 6-chome in 1936. Since its renewal in 2001, it has been based on the second floor of the Sukiyabashi Shopping Center (Ginza Five).
*6. Ginza Sembikiya started as a fruit store at 8-2 Ginza in 1894, then called Shimbashi Sembikiya. In 1913 it became the first "fruit parlor" in Japan, later renaming itself Ginza Sembikiya in 1923. Today, all its operations are based at the 5-chome store.
*7. The Shiseido Geppo ("Shiseido Monthly") magazine was launched in 1924 with the aim of delivering the latest on beauty, life, and culture to Japanese women. It was the precursor to the
Hanatsubaki
magazine that was launched in 1937 and has been running ever since, other than being temporarily discontinued during the Second World War.
*8. Shiseido Parlour began in 1902 as a humble stand in a corner of the Ginza Shiseido drugstore, selling soda drinks and ice cream, which was a rarity at the time. In 1928 it started serving authentic Western cuisine, as well as producing and selling Western confectionery. It was one of the first restaurants to introduce the food culture of the West to the Japanese public.
*9. Bar Lupin Ginza opened as a Western-style bar in 1928 and was later renovated into a counter bar in 1936. The bar is rich with history, having been a haunt for many literary greats.
*10. Established in 1927, Choshiya is a long-standing fried food store that is famous for its croquettes, ham katsu, and katsu sandwiches. 3-11-6 Ginza, Chuo-ku
Contributors